The Elephanta Caves are a series of rock-cut caves on Mumbai's Elephanta Island. They are a UNESCO World Heritage site and one of India's most important archaeological sites. The caves are filled with rock-cut sculptures and reliefs representing Hindu gods and mythical scenes.
About Elephanta Caves Mumbai
Elephanta Island is also known as Gharapuri, which means the City of Caves. The Trimurti, a 20-meter-tall rock-cut statue of Lord Shiva, is the caves' main attraction. The caves are also well-known for their intricate carvings and sculptures displaying Hindu mythology and religious themes.
The carvings' use of light and shadow creates depth and texture that is truly breathtaking. The Elephanta Caves are a must-see for anyone interested in history, art, or a one-of-a-kind cultural experience.
Elephanta Caves History
The 6th and 7th century Elephanta caves are recognized as a superb example of rock-cut architecture and have been listed as a UNESCO World Heritage Site.
The caves are believed to have been built by the Brahmin dynasty and were designed to worship Lord Shiva, a Hindu deity. They are divided into two groups of caves, one of which has temples cut from the rock and the other of which is a monastic complex.
Despite being over a thousand years old, the Elephanta Caves have been protected and still attract a large number of tourists each year. For anyone interested in history, art, or architecture, they provide a great glimpse into ancient Indian culture and religion.
The Elephanta Caves were added to UNESCO's list of World Heritage Sites in 1987, and they quickly became a popular tourist destination.
The Architecture of Elephanta Caves
The Elephanta Caves complex is 60,000 square feet in size and includes seven caves. Under Portuguese rule, the main cave served as a Hindu temple. It has a mandapa with pillars, open porticoes, and an aisle. The walls are made of stone, and a number of deities can be found here.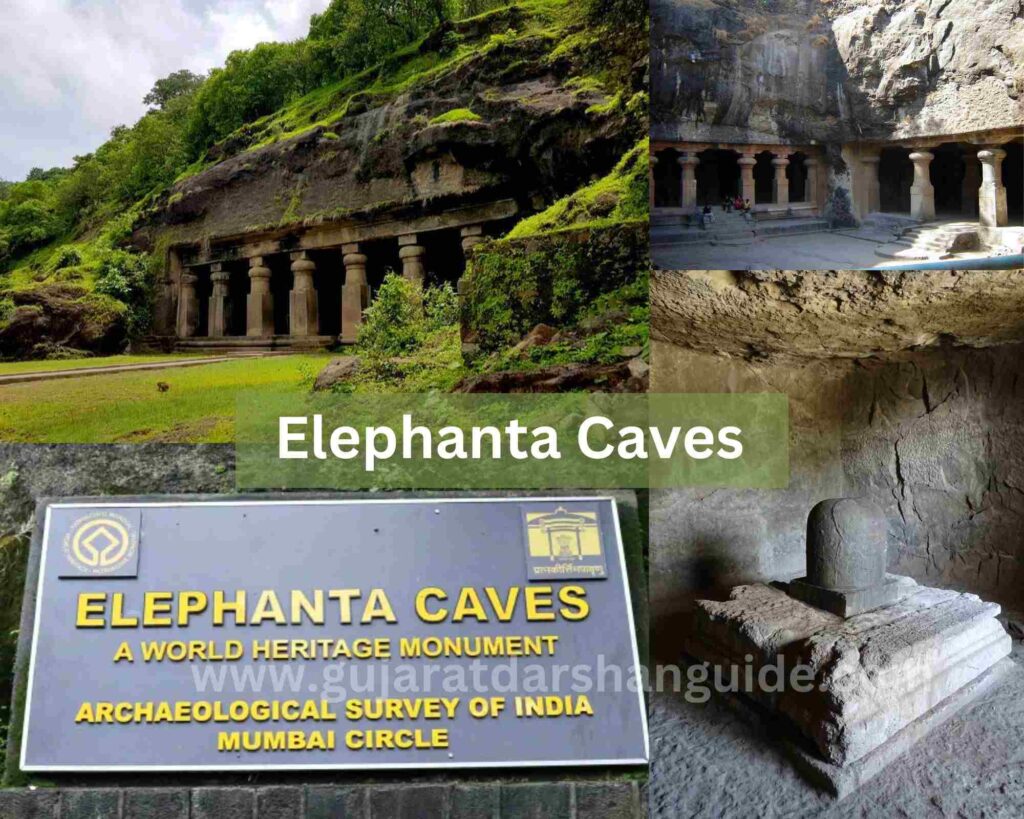 The main cave includes statues of Ravana lifting the Kailash mountain, Shiva and Parvati on Kailash, Ardhanarishvara, who is a manifestation of Shiva and Parvati in the same body, Trimurti, which represents Lord Shiva's three different forms, Gangadhara, which represents the Ganges flowing down from the heavens, Nataraja or a representation of Shiva performing the Taandav, Yogishvara, and the Shiva Linga. Elephanta Caves' east wing temple is decorated with carvings of Kartikeya, Matrikas, Ganesha, and Dvarapala, while the west wing features Yogishvara and Nataraja.
Elephanta Caves Timings
Timings:– 09:00 AM to 05:30 PM, Monday Closed
Best Time To Visit At Elephanta Caves
The caves are the best time to visit during the winter months of November to February.
Elephanta Caves Ticket Price
| | |
| --- | --- |
| Entry Fee (Indian) | INR 40 |
| Entry Fee (SAARC and BIMSTEC) | INR 40 |
| Entry Fee (Foreigner ) | INR 600 |
| Entry Below (Children Below Age 15) | Free |
| Village Entry Fee | INR 10 |
| Photography Charges | Free |
| Videography Charges | INR 25 |
Tips For Elephanta Caves
Plan your visit keeping in mind the ferry timing.
Take a licensed guide-led tour of the Elephanta Caves.
Be on the lookout for monkeys and keep food inside your bag. Have plenty of water.
Wear comfortable shoes.
Bring a cap and a pair of sunglasses.
Put in some sunscreen lotion.
Elephanta Caves Location
Elephanta Island, Gharapuri, Mumbai Harbour, Maharashtra 400094.
Other Attractions Nearby Elephanta Caves
Marine Drive, Mumbai
Juhu Beach
Gateway of India
Prince of Wales Museum
National Museum of Indian Cinema
Siddhivinayak Temple
Elephanta Caves Contact Number
Contact Number:- 022 2204 4040
Elephanta Caves Ferry Service Online Ticket Booking
Several companies provide ferry services to the Elephanta Caves. The ferry services usually comprise a round-trip voyage from Mumbai to the caves, then by time spent visiting the caves before returning to Mumbai. Some ferry services also provide extras like food, drinks, and guides.
How To Reach Elephanta Caves
You must catch a ferry from the Gateway of India jetty to travel to Elephanta Island. After an hour of boating across the bay into Mumbai Harbour, you will reach Gharapuri or Elephanta Island. The island's ferry service is only available from 9 a.m. to 2 p.m. The ferry prices range from INR 130 to INR 150, depending on the boat's convenience.
By Road
Mumbai is well-connected to the rest of India via an extensive network of major roads and national highways.
By Air
Chhatrapati Shivaji International Airport serves Mumbai and has an excellent network with the country's capital and other metro cities.
By Train
Churchgate, a well-known south Mumbai address, is the train station that is most convenient to the Gateway of India.
By Bus
There are two city buses that stop at the Gateway of India: routes 111 and 112, which depart from the Mumbai Central Station and Ahilyabai Holkar Chowk, respectively.